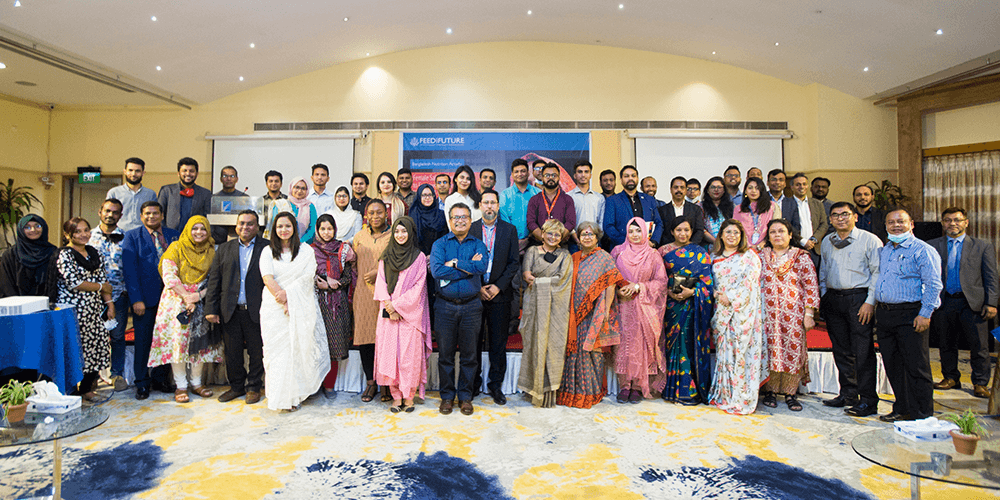 Female Sales Agent (FSA) Model Worked Well In The Pilot Phase
National Workshop on "Female Sales Agent Model to Empower Women Through Nutrition & WASH Supply Chain" held on February 27 at La Vita Hall, Lakeshore Hotel, Gulshan, Dhaka.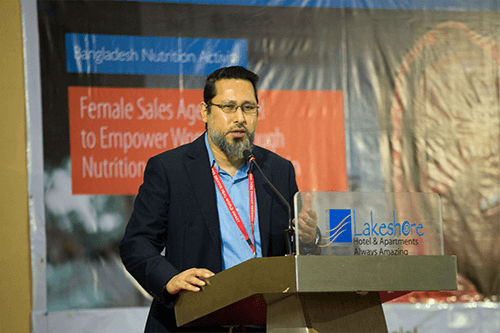 The workshop started with the opening speech of Mr. Ashfaq Enayetullah, Deputy Chief of Party, Bangladesh Nutrition Activity. He happily announced that
"We are overwhelmed about the result of this project's pilot phase"
This program was carried out under Bangladesh Nutrition Activity funded by USAID implemented by iSocial and facilitated by Abt Associate Inc. 
The CEO of iSocial, Ananya Raihan stated,
"Research findings shows that for women entrepreneurs, financial access or to be very specific managing working capital is a barrier and To ensure working capital we will provide trade credit 50% of the eligible monthly turnover amount and cash credit powered by Bank Asia BDT 50 – 200 k."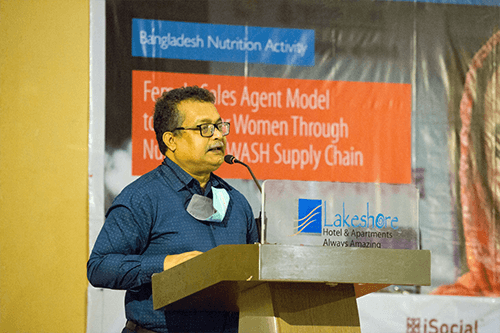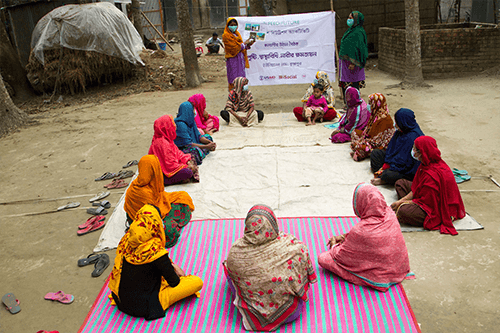 The pilot project aimed to design and operate a supply chain to reach the BoP household with Agri-based nutrition products, especially leafy vegetables. 'Technical and facilitation support from Bangladesh Nutrition Activity, financed by USAID, we have set up a Female Sales Agent Network in 6 Upazilla of Faridpur and Patuakhali districts.
"One of the most important achievements of the project is 123 FSAs are now part of the country-wide Kallyani network and for network expansion 600 more Kallyanis are to be deployed by June 2022. A reasonable brand identity has been created. Such as 1009 courtyard Sessions, 123 Aprons for FSAs, etc. Shujog Connect platform to be launched in April 2022 for connecting to opportunities outside iSocial."
said Sayeda Maksuda Jahan, Program Manager of iSocial.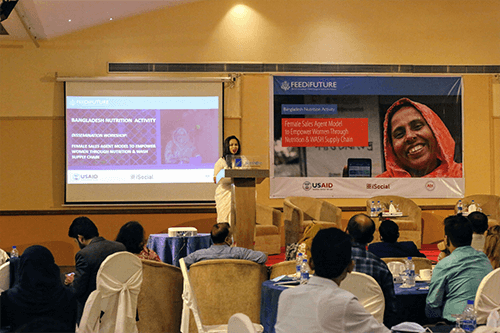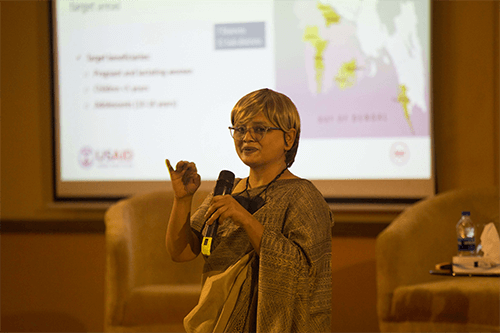 Women Empowerment Technical Lead of Bangladesh Nutrition Activity Ms. Ayesha Kona explained the overall project journey where she mentioned:
"The project objective was – Increase Social and Economic Empowerment of Women and Adolescents & Build a Sustainable Agri-Nutrition Supply Chain Engaging Female Sales Agent."
She also attained the question-answer round.
The total number of participants was fifty-seven. The representatives from iSocial, Female Sales Agent, representative of various private companies such as FMCG companies, financial institutions, Digital Financial Service (DFS), and development partners and NGOs along with key stakeholders from both the private and development sectors such as Bank Asia, SMC, Abt Associations, Nutrition International joined the program.
After the individual speech, there was a Panel Discussion where the CEO of iSocial: Ananya Raihna, Solution Integration and Nutrition Advisor: Dr. Ataur Rahman, Senior Manager of SMC: Amal Razak, Women Empowerment Technical Lead of Abt Associations: Ms. Ayesha Kona Mohammad, and DMD-SMR & CAMLCO of Bank Asia: Ziaul Hasan Molla participated. They discussed the importance of nutrition, women empowerment, Privet sector collaboration, access to finance, and digital inclusion.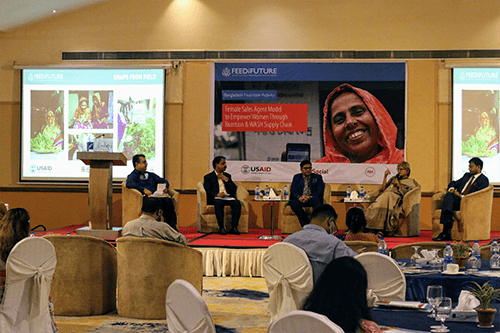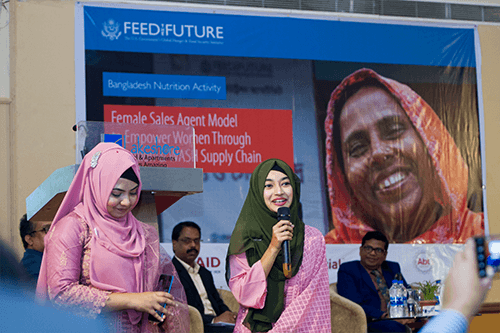 Two of the FSA were presented at the workshop where,
Kallyani Nushrat said
"We introduced with few new terms like iSocial, Abt Associates, Bangladesh Nutrition Activity, Shujog App, USAID and without these we couldn't reach where we are right now"
Kallyani Nowshin said,
"It's a great opportunity for me to become self-sufficient by selling nutrition products at the same time creating nutrition awareness within a locality."
The workshop was an intellectual idea-sharing collaboration where professionals from every sector took part. In the Closing Remark, Saiqa Siraj, Country Director of Nutrition International said
"iSocial has created an example that event in covid situation the Female Sales Agent Model applicable and sustainable to run the operation."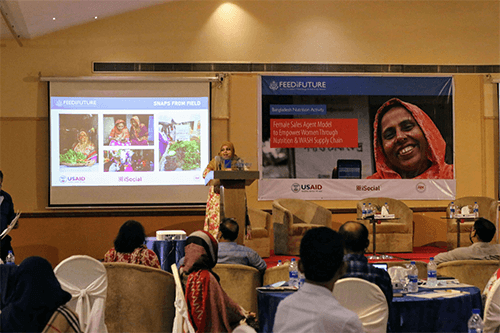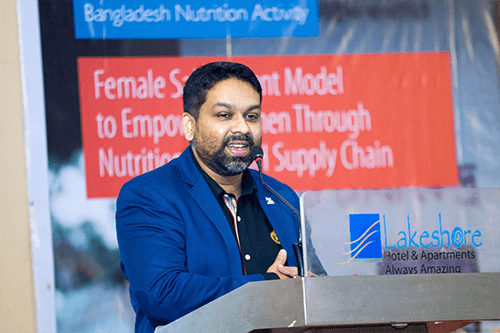 Muntasir Saqib Khan, Country Director of Bopinc said
"First step of women empowerment is to provide financial empowerment. And this program is doing a fantastic job to create microentrepreneurs who are financially independent."
Selina Shelly Khan, Project Coordinator of UNDP said
"Without private sector collaboration the development sector cannot move forward. We must collaborate more to support those people who are interested to become an entrepreneur."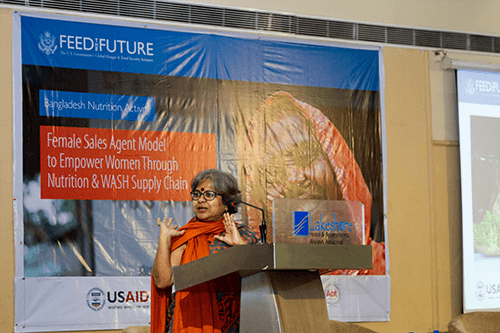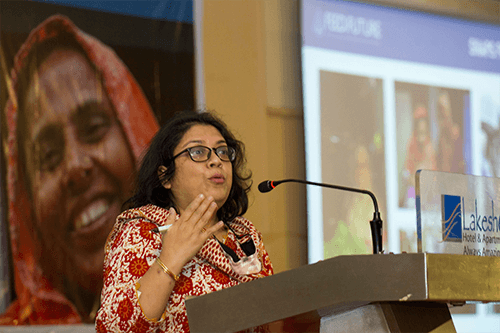 Nutritionist Sabrina Rashid Said in the perspective of research
"It's important to have a learning agenda as a part of every project pilot. We must learn what actions worked well and what failed. So that, we can work on the improvement on the actions that failed and reuse the useful one to serve new opportunities "
Technical Lead of Abt Associations: Ms. Ayesha Kona said
"Every project has a starting and ending, this is the end of our project's pilot phase but things to be noted that the model iSocial practiced while executing the project is now more stable. And to sustain the FSAs who already worked we must support them to the next level of entrepreneurship."
She mentioned as the Female Sales Model is stable to serve any private or development collaboration is welcome.